The Oxford College of Science was started in the year 1994 with twelve students and five teachers. Within 25 years the college has registered a phenomenal growth. Presently College is catering education to more than 3000 students. The institution owes this astounding progress to our dedicated Management and a committed teaching staff. Within an intensely competitive environment, the college has adopted a dynamic, global, high quality: creative and communicative approach in education, as well as research and development. Keeping abreast with modern developments, the institution is constantly reinventing itself and renovating its physical infrastructure as well as its research and education facilities.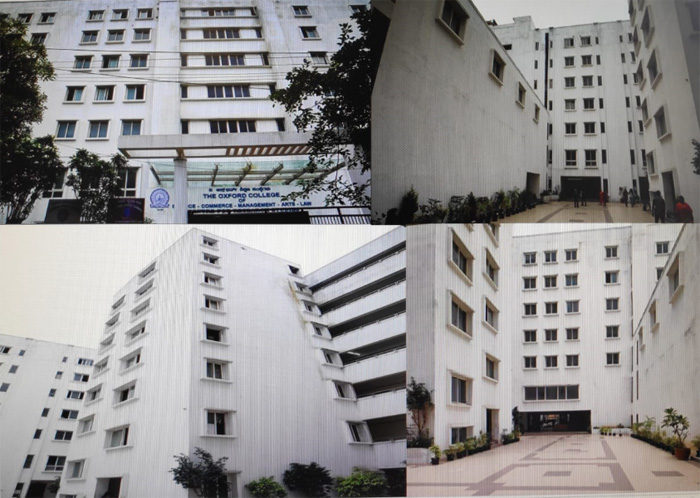 The Oxford College of Science which is affiliated to Bangalore University proudly stands on a sprawling campus with a 6-storeyed building of 2.85 lakh sq. area in HSR Layout, Sector IV and is considered the most preferred place for obtaining a Bachelors and Master's Degree in different Sciences and technical Subjects. The Oxford College of Science offers 10 combinations of the B.Sc. programme; B.Sc.-Fashion and Apparel Design and BCA; 10M.Scprogrammes, MCA, MA (English); PG Diploma in Cellular and Molecular Diagnostics.
Salient Features of The Oxford College of Science
The College is permanently affiliated to Bangalore University, Bangalore, recognized by Government of Karnataka and approved by AICTE New Delhi
The Oxford College of Science is accredited with "A' grade by NAAC and by International Accreditation Organization (IAO).
The College is recognized under section 2(f) & 12(B) of UGC act 1956
The Oxford College of Science is proud to announce that the Department of Biotechnology has been chosen by KBITS, GoK for funding and hosting the Biotechnology Skill Enhancement Programme (BiSEP) in the second cycle (BTFS in first cycle)
The Oxford College of Science is ranked in top 5 among private colleges in Karnataka for 15 consecutive years.
The Department of Biotechnology, The Oxford College of Science is rated one of the best departments in India and ranked No. 1 in Karnataka (Bio spectrum)
Well-stocked and a spacious library with books, scientific journals and an e- library facility and audio visual aids with INFLIBNET and DELNET facility.
Centrally air conditioned Computer laboratory with latest software and internet facility
The gallery classrooms are well equipped with latest teaching aids, Smart Boards and audio visual facilities.
Well-equipped, state-of–the-art laboratories with sophisticated equipments.
Well-equipped E-Content development facility
Well-furnished auditorium with a 650 seating capacity.
Well-designed Board room with video conferencing facility.
The Oxford Science Skill Enhancement Centre (TOSSEC) offers Value added program, Certificate Programs, Workshops, In-house Projects, MOOC's, Vocational training programs for Skill Enhancement
Language lab for honing communication skills.
App based Learning management system (LMS)
Training and Placement Cell with dedicated Placement officer.
Holistic development through NSS, NCC, Sports, Culturals, co- curricular and extra- curricular activities.
Active Student Welfare Cell with dedicated Student Welfare Officer's for scholarship's and grievance redressal.
Responsive administration.