NCC
---
The National Cadet Corps (NCC) in The Oxford College of Science was established in the year 2017 under 1 Karnataka battalion, Bangalore 'A' Group with 4/2 coy strength of 52 cadets under Army wing. The Coy aims to develop character, commandership, discipline, leadership, secular outlook, spirit of adventure and the ideals of selfless service amongst the youth of the country. It trains the cadets to imbibe and be a responsible citizen of the country. NCC Army wing in the campus is very active and vibrant and organizes several extension activities, outreach and awareness programs, observes national festivals and commemoration days .The unit has participated in blood donation camps, plantation programs and lends support in time of disasters. In addition to this cadets are being training for firing, social service and adventure training/activities.The unit works with motto of "Unity and Discipline" and motivates students to join Armed Forces.
Faculty coordinator: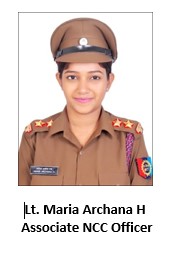 Eligibility:
First year degree students.
Training:
Total training period for SD and SW is 3 years with an extension of 1 year permissible & training.
The total number of parades in a year is eighteen in number and will be held in the College campus.
The regular parades include training in drill, map reading, weapon training, obstacle training and Military subjects (theory classes) etc.
In addition to the regular parade cadets will get training for firing, obstacle training, map reading, social service and adventure activities like mountaineering, trekking etc.

Camps attended by NCC Cadets :

Thal Sainik Camp I,II,III,IV & V
Ek Bharath Shreshth Bharat
Nilgiri Trek
Army Attachment Camp
Inter group Competition RDC
RDC I,II,III
IGSSC
Combined annual Training camp
Annual Training Camp
Cadre Camp

Certificates :

B certificate - After two years of training with minimum 75% attendance and one camp
C certificate - After two years of training with minimum 75% attendance and two camps

Activities :

National festivals
Commemoration days
Extension activities
Outreach and awareness programs
Government initiatives

Achievements :

Deputy Director General NCC Karnataka & Goa Air Commodore B S Kanwar, VSM awarded DDG Commendation plaque to Lt.Maria Archana H on 07/02/2023
Director General NCC. Lieutenant General Gurbirpal Singh, AVSM, VSM awarded DG commendation card to Lt.Maria Archana H on 28/02/2022
Represented Karnataka and Goa Directorate in Republic Day camp 2023
NCC cadets represted national level camps namely TSC, Pre RDC , AAC, Nilgiri Treck and EBSB