NSS
---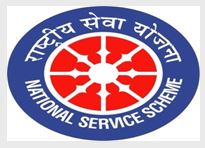 National Service Scheme
National Service Scheme (NSS) was launched during the Mahatma Gandhi's centenary year i.e., 1969.The NSS unit of The Oxford College Of Science was started in the year 2008. The main aim of NSS is "Development of student personality through Community Service". In order to fulfil this objective, student Volunteers and Program functionaries are engaged in constructive and productive programs involving students in various awareness drives like Shramdaan, Social reforms, Communal harmony, creation of community assets, relief work, blood donation, environmental protection, eradication of child labour, adult literacy programs, health education campaigns etc., Under the scheme, each volunteer contributes 240 hours of community work during the period of a year.
THE NSS UNIT OF THE OXFORD COLLEGE OF SCIENCE
Mr Mariswamy. N
NSS Programme Officer
"Not me but you"
The motto expresses the essence of democratic living and upholds the need for selfless service and considerations towards fellow human being.
It underlines that welfare of an individual ultimately depends on the welfare of the society as a whole and therefore the aim of NSS is to demonstrate its motto in its day to day activities.
NSS volunteers work hard day and night to ensure that everyone in the society who is needy gets every possible help from NSS so that they can also reach their standards and lead a life of dignity.
Profile
Student members: 102
University sponsored unit: 102 members
Faculty members: 02
Activities
Maintaining the greenery of campus
Adoption of village
Visiting and helping the orphanage and old age home
Free Blood check up & Blood donation camp
NSS special camp
Free eye care and donation camp
Health awareness camps
Conducted a peace awareness rally
Adoption of Village
Village name: Shivaganga
Taluk: Nelamangala
District: Bangalore rural
State: Karnataka
We regularly help Samarthanam - the orphanage in
Teaching the students
Digital library conversion
Weekend activities
Special coaching classes
NSS of The Oxford College of Business Management in coordination with Rashtrotthana Blood Bank conducted a "Blood Donation Camp" in the HSR Layout Campus. It was conducted to create awareness among the students.
NSS maintains the voluntary blood donors register to help the needy. In this way it regularly helps hospitals like:
Jayadeva Hospital
Satya Sai Hospital
Narayana Hrudayalaya
Kidwai Institute of Oncology
NSS Special Camp
NSS yearly once conducts special camps in the rural areas. The aim of the camp is to understand the rural people and to interact with them. By this the students will get the knowledge of different cultures.
Cleaning the village
Teaching the importance of hygiene
Conducting the medical camp
Distribution of medicines
Cleaning historically important places
Interacting with the village school children
"Eyes are precious do not burn or bury them pledge your eyes so that your eyes can see the world even when your not here"

The NSS Unite of The Oxford College of Science engaged in the following activities during the year 2018-19.
For this academic year enrolment drive was held during the month of july-2018. Thereafter arranged a general meeting for volunteers and Inspire them to participate in NSS.
On 31st July 20018 reconstituted college level NSS advisory committee for the period of one year from August-2018 to until the next advisory committee was formed. And prepared the annual plan for regular and special camp activities.
Orientaion program was conducted on 03rd August 2018. Mr. Mariswamy N. NSS programme Officer made a presentation to NSS volunteers. He explained to them concepts of social service & motivated the students to join NSS.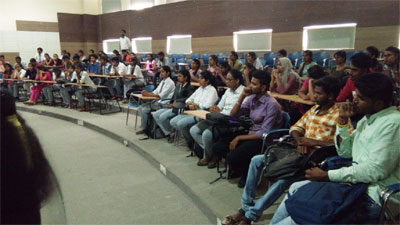 NSS unit of TOCS observed On "SWACHATA HI SEVA" cleanliness drive under Environment, Enrichment program on Sunday 19th August 2018 between 9-00 am to 2-00 pm in HSR Layout Bengaluru. There were several events conducted such as cleaning the street, door to door awareness talk about cleanliness, maintains health and hygiene. And over 75 volunteers have joined the community's development. Provision of volunteer safety and light refreshment.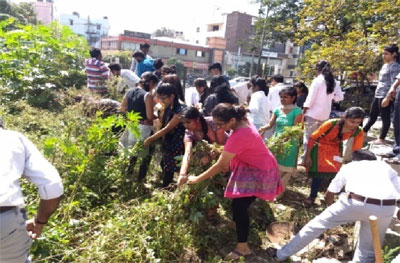 Health Programe on "STOP CHIKUNGUNYA AND DENGUE" Jota program was conducted on 31st August 2018 at HennagaraVillage,AnakalTaluq, Bengaluru rural Dist. The program was inaugurated by Sri. R.K.Kesav Reddy, President, HennagarGramaPanchayat. And educate the village people about Dengue.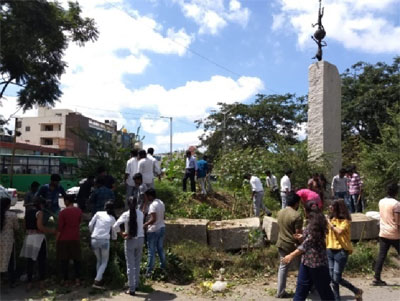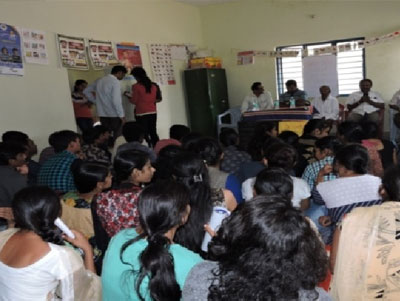 A teacher is a friend, philosopher, guide, opens our mind and toucher our heart. The contribution of a teacher cannot be ignored at all. So, in a nutshall, we celebrated as an honorable teacher's day for all the teachers on 05th September 2018 in commemoration of Dr. SarvepalliRadhakrishna.
Our Monument is our pride: Our monument is undertaking to protect and preserve the monuments in our surroundings under the mission of being proud of us. As part of this the restoration work of the monument near Agar, outer ring road, Bengaluru was carried out and the resuscitation work was done on 08th September 2018. There were 54 volunteers in this function.
NSS has always stood up to its strong spirit of serving people. Keeping in mind the policy of "NOT ME BUT YOU" the NSS unit of the TOCS had organized "Vishwa Hiriyara Dina" on October 1st 2018. Mr.Gopal Reddy retired KMF staff member, Bengaluru was invited as a guest of honor. Mr. Gopal Reddy expressed concern over the unanimity of the elderly who had been neglected by the family and he explained us the important of taking care of and respecting elders. The Vice Principals of TOCS Dr.Bharathi S, Prof.Gayathri Sudhir and Mr Mariswamy N NSS Program Officer honoured the elders.
BLOOD DONATION CAMP: Our intention is to help people in need of blood donors and blood especially for poor people. Contacting blood donors is still a difficult task especially in cases of emergency. One easy solution for this is conducting blood camps. In this regard the NSS unit of The Oxford College of Science had organized "Voluntary blood donation camp"on 16-10-2018 in association with Rashtrotthana Blood Bank and Rotaract Club at the College Auditorium Lobby. The Camp was inaugurated by Mr. Akhil Reddy, Youth President, Yuva Morcha, Bommanahalli Ward, Bengaluru. 132 blood donors participated in this camp. After blood donation, refreshments were also provided to the donors. The Rashtrotthana Blood Bank appreciated NSS Programme Officer Mr.Mariswamy N and presented a Memento as a token of honor.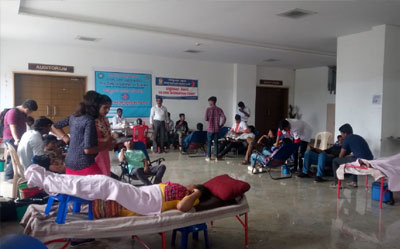 RashtriyaEktaDiwas : Will provide an opportunity to re-affirm the inherent strength and resilience of our nation to withstand the actual and potential threats to the unity, integrity and security of our country. In this manner the NSS unit of TOCS celebrated National Unity Day on 31st October 2018 as a commemoration of the birthday of the Iron Man of India SardarVallabhbhai Patel. In this connection we arranged essay writing competition on "National Unity and Modesty" for students. NSS Program Officer Mr. Mariswamy N and other dignitaries are gathering the program. More than 75 volunteers were actively participated in this Program.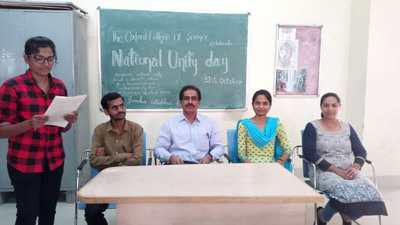 HOW TO USE MASS MEDIA IN LEARNING: Mass media has a great impact on society and technology. It is the primary means of communication used to reach the vast majority of the general public and to provide information regarding social issues, entertainment, news and current events. In the same way the NSS unit of TOCS had organized a one day workshop on "How to use Mass Media in learning" at Govt. Higher Primary School, Jakkasandra, Bengaluru-34 on 14th November 2018 for school children. Guest of the day was Smt.Nagarathna, Head Mister of the school. On this occasion 16 trainees volunteers had participated.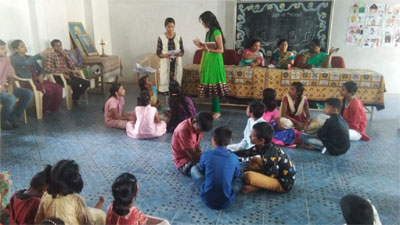 A SOLUTION TO PLASTIC POLLUTION: As the world's population continues to grow, so does the amount of garbage that people produce. Our lifestyles today require easily disposable products like plastic. Plastics add to increasing levels of pollution around the world. In this regard the NSS unit of The Oxford College of Science organized an awareness program On "A Solution to Plastic Pollution" On 06-02-2019 at college quadrangle. The program was inaugurated by Dr. R.Kavyashree, Principal, TOCS.

CANCER AND TOBACCO AWARENESS: Our NSS volunteers have participated in the programme "Prevention and Early Detection of Cancer and Tobacco Awareness held at Christ College, in collaboration with CSA (Centre for Social Action) Health Centre (Centre for Counselling & Health Services) on 7th February 2019. Dr. Suresh Babu, Kidwai Hospital and Miss.Valentina,CSA, CSA, CSA who addressed the gathering about her experience. All the participants; 17 volunteers along with the NSS Programe Officer had a great time and gained lots of Knowledge.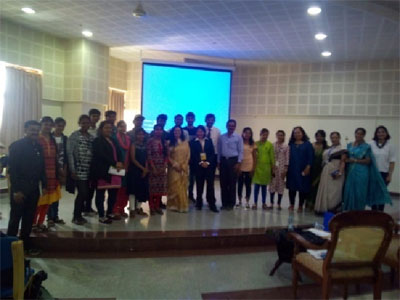 CONSTRUCTION OF WALKWAY: The NSS unit of TOCS actively participated in construction of walkway, seat fixing and other functionary work done on 09-02-2019 at BBMP park 23rd Main Road, 13th Cross, HSR layout Sector-I, Bengaluru for utilize for public. 35 volunteers were participated the same.

SRAMADANA: Structural programs were designed to allow volunteers to engage in regular activities in accordance with the goals of the NSS. Over the weekend the area was developed for by taking special activities. In accordance to this efforts were made to create a garbage free area and to take part in activities such as memorial conservation, Agara Lake cleaning, planting trees on road side etc. The NSS unit actively participates in different social service activities.