Infrastructure and Learning Resources
---
The Oxford College of Science's constant endeavor has been to create state-of-the-art infrastructure catering to technological demands in the academic field to facilitate effective teaching and learning.The current infrastructure has been developed to cater to the modern requirements of the student community. The following features offer a glimpse of our infrastructural resources
Computer centre
The institution hasstate-of-the-art ICT infrastructure to support academic, administrative and research activities with latest hardware and software. The campus is WiFi enabled and has sufficient bandwidth for internet connection, which helps the institution operate efficiently in the modern digital age that has a positive impact on the institution's productivity, communication, learning experience, efficiency and security. The computer labs are equipped with High-end server systems like PowerEdge, and High-Performance.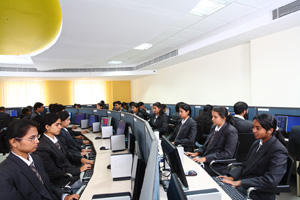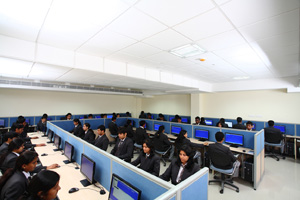 Learning-Resources Centre

The institution has air conditioned library centrally located with a total area of 3027 sq. mt., spread across 3 levels with 356 seating capacity that complements the rich learning experience. Library is fully automated by Integrated Library Management System (ILMS) .CMS provides the advanced Library Management tool by accommodating various modules for library housekeeping operations like, Registration of Members, Transaction of Books and non-book materials, Online Public Access Catalogue and the Digital Repository with the remote login credentials. Library has adequate number of computer terminals to facilitate searching e-resources, web browsing and for other academic work.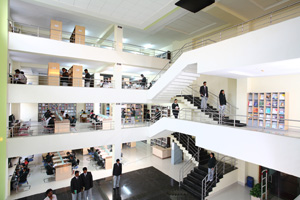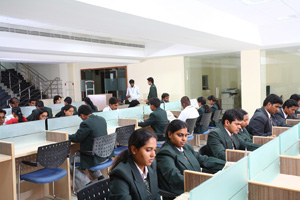 The support facilities available:
INFLIBNET and DELNET facilities
Automation of services for easy accessibility
Reading room and individual cubicles
Internet facility
OPAC facility
Reprographic facility
Uninterrupted power supply and backup facility
Notice board for information display like circulars, paper clippings, job openings and important news
Competitive-examination books and journals
Class rooms and Laboratories
Classrooms are equipped with ICT tools viz.. audio-visual facilities and smart boards to enable comprehensive curriculum delivery. Class rooms are equipped with ICT facilities and also with interactive display panel. State–of-the-art Scientific laboratories equipped with high-end equipments and new generation computer systems are available for curriculum delivery, research, training programs and in-house projects. English Lab with Wordsworth software is provided to enhance the communication skills of the students to enable them to compete globally.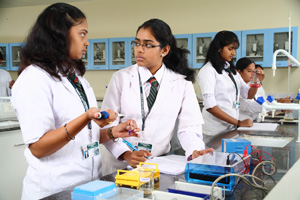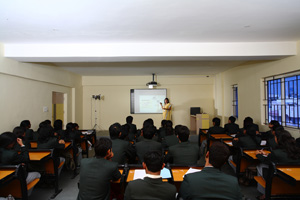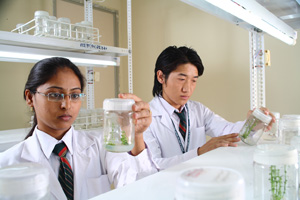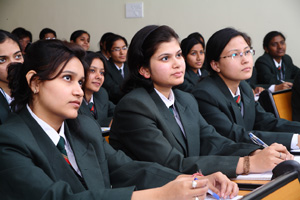 The College has well-equipped laboratories for each of the individual subjects to cater to regular day-to-day practical and research activities. They are geared to provide extended individual experiment time. The labs stock sophisticated and high-end instruments to help students familiarize themselves with futuristic technology.
English Language Laboratory
An added facility in the college is the English Language Laboratory consisting of computers installed with Wordsworth software to hone the language and grammar skills of students. Such an opportunity for enhancement of soft skills provides our students with the advantage of competing in the global environment.
Auditorium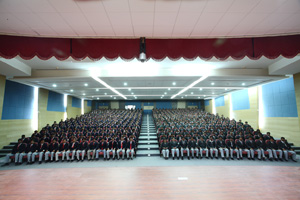 The auditorium with good seating capacity to enable the students and faculty to organize symposia, conferences and other academic and cultural programs. The auditorium is well designed with video conferencing facilities to interact with well-known personalities in related fields all over the world.
Sports & Yoga
The institution has well-equipped Sports & Yoga Centre for Indoor games and Yoga programs. Gymnasium with necessary equipments is available. Health Centre with first aid facility and basic health monitoring facility is available.
College automation- SMART campus
Campus Management System aids in.
Student data-attendance, time table, Lesson plan, internal marks, Library book issue etc.
Staff data- work load, lesson plan, staff attendance etc.