Founder Profile
---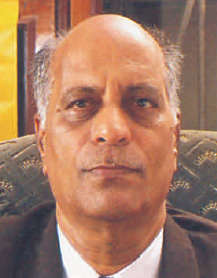 Late Sri S. Narasa Raju (05.06.1941 - 16.05.2016)

The world steps aside for the man who knows where he is going

Few men in history have worked with zealous aspirations, who visualized excellence, perfection and variety as did the Founder of Children's Education Society in Bengaluru.
Common among all great pioneers, is the uniqueness in describing their true genius: a school teacher who went on to became an exceptional human being, an outstanding leader and great educationist has started many Educational Institutions under the banner of The Oxford.

In his four decades of human service, The Oxford Group has seen an immense growth of establishing more than 30 Institutions from primary level to Doctoral level including Management, Hospitality Medical, Para-medical, Science, Engineering, Dental with more than 20,000 students and 2,500 faculties, in more than 85 academic streams imparting education to students from all over the country and abroad. The Oxford Group is a living testimony to his indomitable will, single-minded dedication and an unrelenting commitment to his goals.

In his lifetime, he built an educational empire from scratch and was actively involved in building the best brand in education; rightly called "man of mission", 'a strict disciplinarian, a philanthropist and a role model'.
Prestigious awards and titles were conferred on him by many national organizations. In recognition of his enormous service rendered in the field of Education and Philanthropic activities, the Tamil Nadu Government appointed him as the Chairman of Board of Trustees of Sri Subramanya Swami Temple, Tiruthani, Tamil Nadu. He was also the recipient of several awards like the Rajiv Gandhi National Integration Award for excellent service in the field of education by the Government of India , Best Educationist Award by Unaided Pvt. School Federation of India, Vidyasri Award by Swami Narayana Gurukula and Swami Vivekananda Yoga Centre. He had also renovated many temples and schools in Karnataka, Andhra Pradesh and Tamil Nadu to its former glory. He inspired the Oxford team to do better than the best.
He visualized the growth of Oxford as an integral part of his grand vision. His sterling leadership qualities, remarkable foresight, uncompromising pursuit of excellence, humility, prodigious capacity to motivate and trust people will continue to guide and inspire future generations at Oxford. We are proud and privileged to inherit this invaluable legacy. These highly motivated people comprise the core of what he named: "The Oxford Family".

Legends are made of will. The Oxford Educational Institutions is inspired by this vision of building intellectual competitiveness for India and abroad.

His spirit will live on forever.