IQAC
---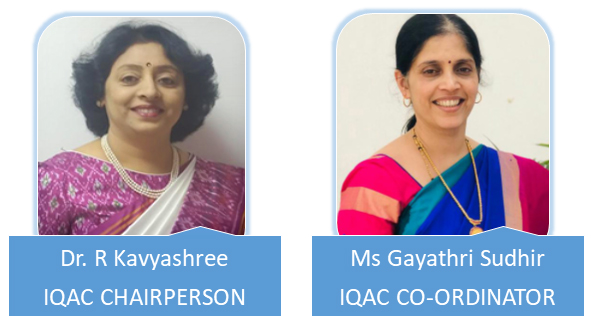 "Quality is not an act, it's a habit" - Aristotle
Vision
To strengthen Quality Management System in Quest for Excellence
Mission
To develop a conscious, consistent and continuous quality mechanism to enhance Learner Centric Ecosystem
Statement:
The policy aims to pursue global standards of excellence in all the academic, research and administrative activities by focusing on self-evaluation and continuous improvement. It strives to ensure quality permeates in every aspect of the institution functioning and all stakeholders imbibe quality culture.
Objectives
To inculcate quality culture and foster quality literacy
To strengthen policies and processes for effective governance
To strive for augmenting pedagogical innovations
To fortify research and innovation portfolio
To develop and enforce KPIs and quality benchmarks
To reinforce academic, administrative audits and feedback mechanism
Higher education system is undergoing a paradigm shift to meet the international quality standards. The onset of knowledge-based economy in this millennium has led educational institutions to provide education as per the needs of the future economy. The skills and the level of knowledge required are very much different from the traditional academic skills. Educational institutions are forced to respond to the changing expectations to provide human resource appropriate to the needs of changing socio-economic circumstances. Therefore, Quality Education has become the primary goal of every higher educational institution.
In this direction, establishing mechanism of internal quality assurance is important part of the quality exercise. Crafting and executing quality initiatives at various levels of the institutional functioning is a great challenge. To design and implement quality enhancement and sustenance model, one needs to do critical reflections and revisions. The difficulty is about successful embedding of quality culture in the organization. To implant quality culture the higher education institutions (HEIs) should aim for continuous improvement and self-regulation for an effective outcome. To achieve success in embedding quality culture, it is necessary to create awareness among the key stakeholders viz., academicians and educational administrators, who are the driving force in any HEIs.
In lieu of this, IQAC was established at TOCS in 2011 as a post-accreditation quality sustenance measure to channelize the efforts and measures of an institution towards academic excellence. IQAC at TOCS adopts multifaceted integrated approach involving all the stakeholders for all the quality measures to fulfill the dream of achieving excellence. Hence, the IQAC works in tandem with the management, faculty, students and support staff as a constant think tank cum problem solving unit, creating the space for quality to be nurtured and thus sustained. The IQAC, a mentoring body ensures continuous and comprehensive evaluation of quality enhancement initiatives while distributing responsibility to each stakeholder to work toward quality sustenance. IQAC at TOCS ensures quality literacy among all its stakeholders, prepares quality strategy for execution, conducts quality audit periodically, obtains 360°quality feedback from all the stakeholders, crafts quality policy, provides participative quality governance, recruits quality faculty, delivers quality academics and performs quality research thus developing the quality culture of the institution that leads to quality quotient enhancement and thereby quality sustenance.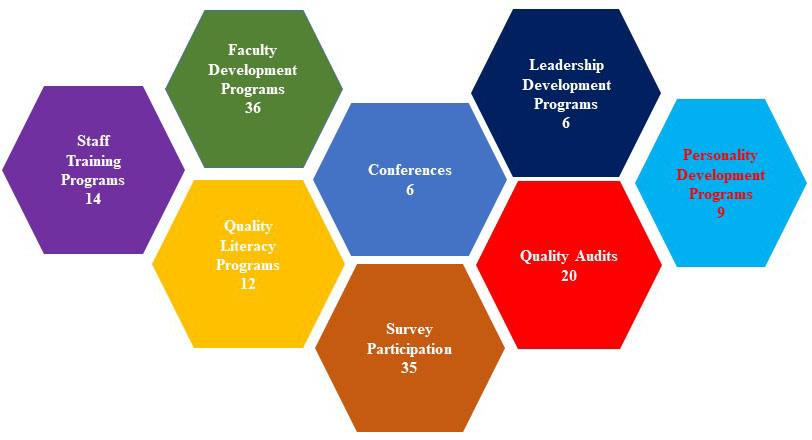 The IQAC has external members in the committee and the institute has appointed Coordinator for IQAC whose primary responsibility is to convene the meetings with various committees, obtain feedback and frame quality policies accordingly. The several policies framed to ensure quality assurance include Quality Policy :
Administrative Policy
Quality Policy
Admission Policy
Teaching & Learning Policy
Evaluation Policy
Mentoring Policy
Research Development & Innovation Policy
Consultancy Policy
Human Resource &Staff Development Policy
Women Empowerment Policy
Placement Policy
Student Welfare Policy
Alumni Association Policy
Inclusive Policy
Anti-Harassment Policy
Anti-Ragging Policy
Library Policy
Computer usage & Networking Policy
Upgradation & Procurement Policy
Resource Mobilization Policy
Green Policy
e-Governance Policy
The said policies have contributed in institutionalizing the quality assurance in the following ways.
Comprehensive framework of regulations governing the general administration which aides in achieving organizational goals and expectations.
Transparent and systematic admission and enrolment process for quality student selection.
Optimization and integration of modern methods of teaching and learning
Transparent evaluation system
Conducive ecosystem for research and innovation
Boost academic-industry interface
Effective recruitment process to ensure quality in teaching.
Ensure equal opportunities and rights among men and women
Active, attractive and successful placement service.
Efficient and encouraging platform for student expression.
Maintain conducive and safe environment for staff and students
Lifelong association between college and the alumni.
Transparency in purchase of resources
Updation and Up-gradation of infrastructure to create conducive learning environment
Effective management of funds and resource mobilization.
Create awareness and responsibility towards environment